Technology
GPK-STAT is a new kind of service which implements a double aspect of statistics service: the page-rank checker and the visits counter. Standard web sites and blogs have always two services to obtain these results, but now GPK-STAT is an unique tool with double features for the standard and mobile oriented webmasters.
Free Services
This service is totally free. You can put the code on your home page for free, but the code must be exactly copied from this page. In this way we can be sure of attribution for our service. No more is asked to You. Every user can obtain the code without registering. No subscription required. Nothing al all. ....but no warranty is offered too.
Search Engine Tools
Search Engine Optimization Tools (BETA) in a set of tools created from us targeted to reach state of the art page-rank optimization. Some tools are free, others need a cheap donation to help us develop better software. Search Engines mutate in a fast changing universe and then we need continuous development.... So, please help us.
No Registration
You don´t need to register to embed our counter in your web pages. You simply copy our code from this site and paste it into the html of your web-site (standard or mobile). No authorization, no personal data, no registration, no money, no time to wait... Just copy, paste, use! (in future versions we´ll ask a password to protect statistics).
GiPOCO´s Statistics for the World Wide Web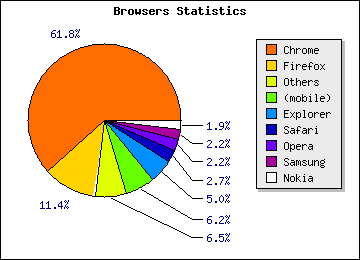 Collaborative Statistics Tools Development
The developers are working hard to speed up the Page-Ranking Checker / Counter and to generate cool graphics and statistics.
Every user idea is very important to send feedback and indicate the way of development (especially for the
mobile statistics
).
We take in big consideration all user feedbacks. We appreciate a lot all indications to develop a better software with and for You.
This software is released for
free
(commercial and non commercial use) but with no warranty; without even the implied
warranty of merchantability or fitness for a particular purpose. It's donation-ware (contact us by mail for a donation).
This is the
HTML 5

code you must put on your website to track statistics